German Opal Mining Community


It is a well known fact that the Australian opal mining industry is a diverse community that has welcomed immigrants and minorities into its ranks, even during times of great social tension. One such group are German-Australians, who, in the early 1900s, helped to revolutionise the first opal mining boom. With their incredibly refined lapidary skills, as well as a keen sense of pride for their adopted home, German immigrants entered the opal mining industry and quickly became a force to be reckoned with, creating a legacy that continues to permeate into mainstream Australian culture.

Germanic Immigration to Australia
German immigrants first began to arrive in Australia en masse during the 1850s. The majority entered the continent at Port Adelaide and settled in South Australia and Victoria. By 1914, over 100,000 German immigrants were living a life of relative peace and prosperity in Australia. Many had managed to successfully make a name for themselves in major industries such as agriculture, farming, and wine making.
But with the onset of the Great War, everything changed for German-Australians. The community was ostracised and treated as enemies. As a result, most lost their jobs and were shut out of the same industries they had helped to build. It became necessary to think of more unique job options that offered independence as well as inclusivity. 
Opal Mining
This led to a rise of unemployed German-Australians making their way to the opal fields to try their hand at mining. At the time, and still today, opal mining, and the promise of riches associated with it, was attractive to immigrants and minority groups looking to work autonomously and free from discrimination. However, this was not the beginning of the Germanic influence on the Australian opal mining industry.

Germans and Gemstones
Even before World War I, Germans had played an interesting role in the Australian opal trade. Some of the finest gem experts in the world hailed from Germany, particularly the "Gemstone Cutting Capital of the World", Idar-Oberstein. In the early 1900s, opals were sent from Australia to Germany for cutting and dealing. Until the war began, stonecutters in the German gem market were some of the most prolific buyers and sellers of Australian opal in the world. 
As opal continued to rise in popularity, many German gem specialists migrated to the Australian opal fields to open up lapidary and jewellery making businesses. One such specialist, Dieter Lorenz, was thought to be the finest stonecutter to ever come out of Idar-Oberstein. Almost immediately, precision and perfection of lapidary techniques became inherently associated with the migrant group of German business owners operating in the Australian fields. 
Altmann and Cherny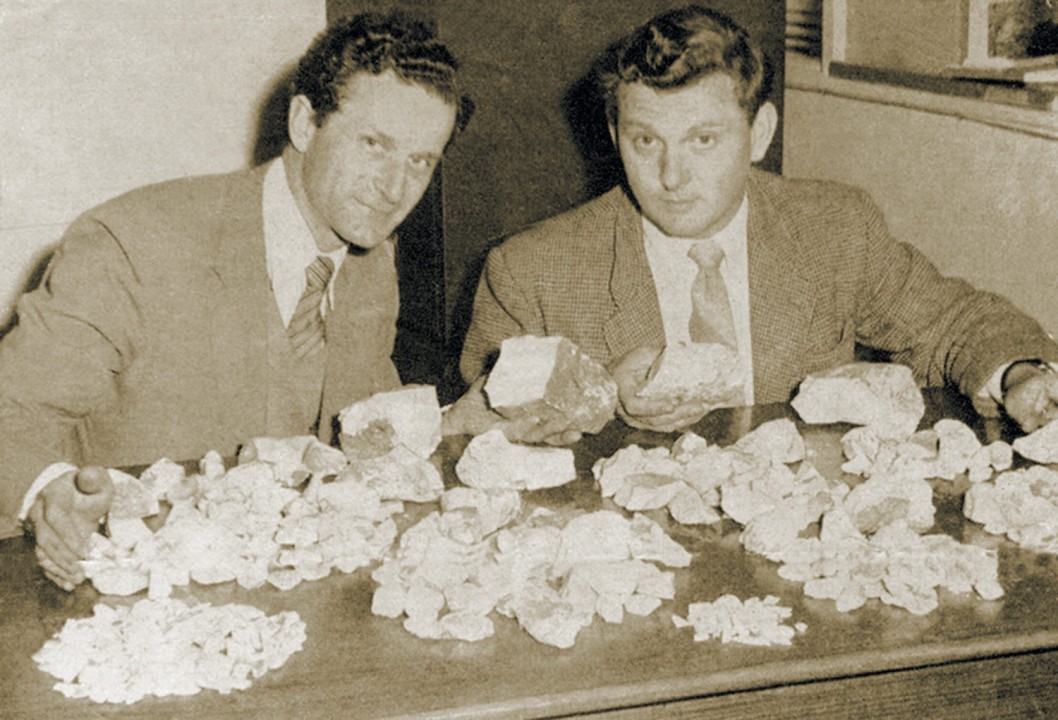 Altmann and Cherny
In the two decades following the Great War, Australia developed a more tolerant attitude towards German immigrants, both those who were already living in the country, and those seeking refuge from the political upheaval taking place in Europe. Beginning in the late 1930s, German immigration boomed, with many once again making the journey to Australia to start a new life. This second wave of German-Australia immigration brought John Altmann and Rudi Cherny, two of the most recognisable names in the Australian opal industry, to the Victorian capital city, Melbourne.
The two young men first met at a Melbourne cafe popular with German immigrants and quickly bonded over their love for Australia and a shared interest in jewellery making. In 1948, they combined their two passions and opened their first opal jewellery shop in the popular shopping district on Elizabeth Street. Together, Altmann and Cherny would travel to Andamooka, Coober Pedy, and White Cliffs to buy parcels of opal rough directly from miners. Over time, the self taught jewellers became masters of cutting, polishing, and hand crafting pieces with Australian opal.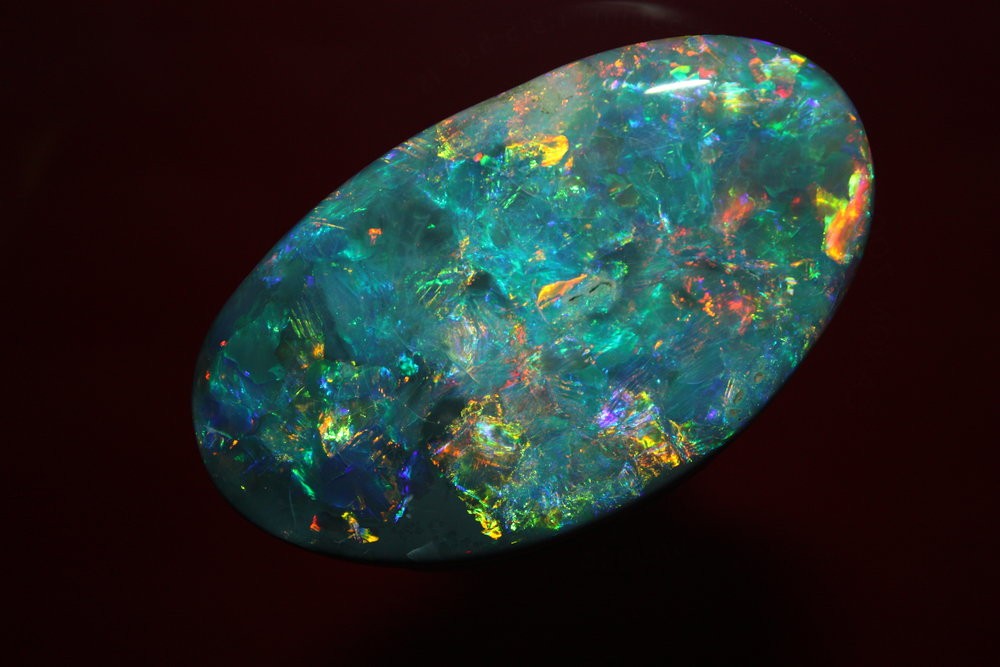 The Aurora Australis
Altmann and Cherny are responsible for buying and polishing some of the most famous opals of all time. This includes the "World's Most Valuable Black" opal, the Aurora Australis and the "Largest and Most Valuable Gem Opal Ever found", the 17,000 carat Olympic Australis. Both opals were bestowed with official titles from the Guinness Book of World Records and have a combined estimated worth of over three million Australian dollars.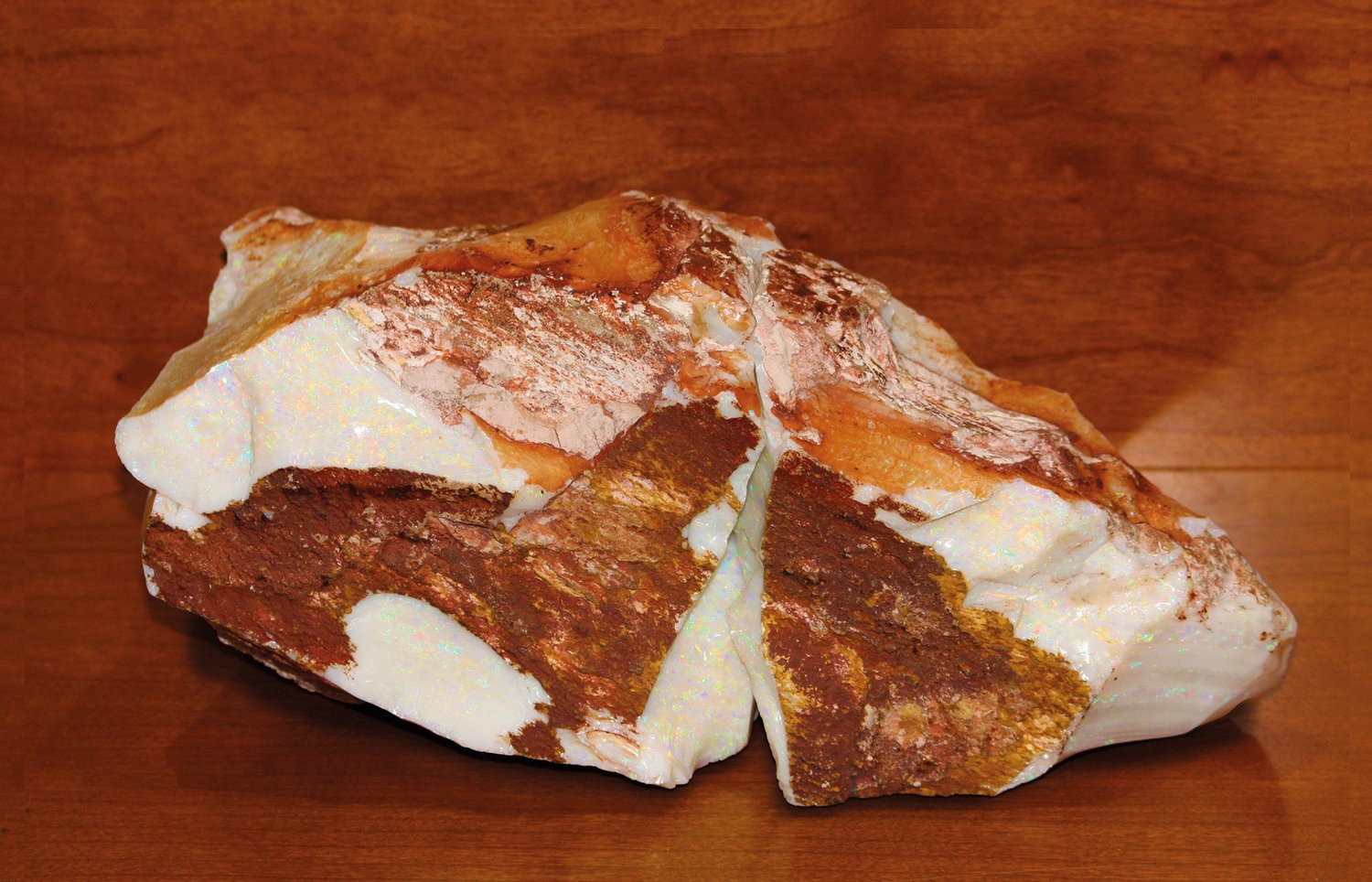 Olympic Australis
However, Altmann and Cherny are most famous for the creation of the Andamooka Opal Parure. In 1954, the South Australian government commissioned the duo to design a suite of jewellery to gift to HRH Queen Elizabeth II during her joint tour of the Commonwealth with Prince Phillip. Altmann and Cherny made the journey to Andamooka to hand pick the stone, which Altmann would go on to cut and polish. The incredible light opal, which exhibited brilliant rainbow play-of-colour, was set in palladium and accented with natural diamonds. The opal in the queen's necklace was considered by Altmann to be "the finest stone [he] ever polished". It is now a part of the official Crown Jewels collection.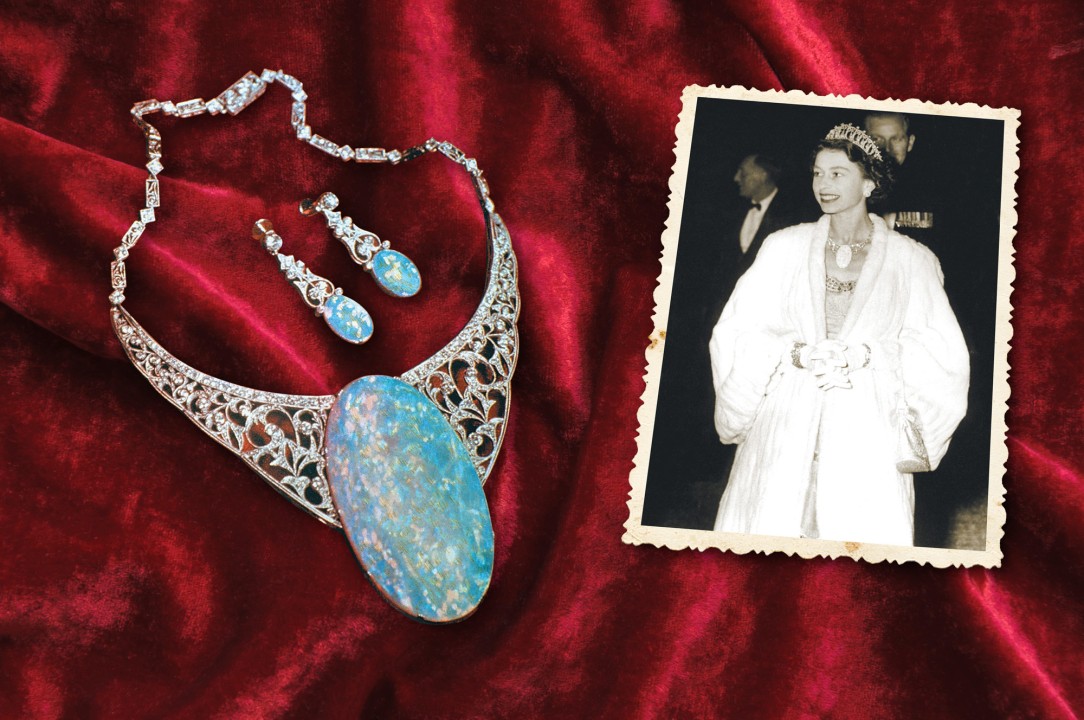 Andamooka Opal Parure
John Altmann and Rudi Cherny's considerable legacy is now being carried on by their grandchildren, who continue to own and operate their grandfathers' jewellery store, now located on Pitt Street in Sydney. The Aurora Australis and Olympic Australis remain on permanent display in the boutique's showroom. These magnificent gemstones are both trophies of the Australian opal industry's golden age, as well as symbolic representations of two of the era's most formidable figures. 

Arno's Wall
German-Australians in the opal industry were not just stone cutters and jewellers. Many were out in the field, digging and mining. One of Queensland's most well-known opal miners, Arno Grotjahn, was a German immigrant.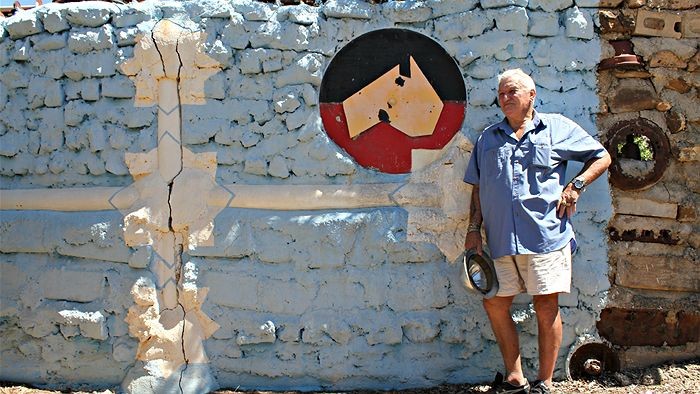 Arno Grotjahn
Grotjahn came to Brisbane from Germany in the 1960s. At first, he eked out a meagre existence for himself working at the wharves. But everything changed when, one fateful day by the docks, Arno came across a stranger showing off a parcel of opal that they had purchased in Winton. The next week, Arno packed all his worldly possessions and headed north to the opal fields, absolutely convinced that opal mining was his purpose in life. 
Not long after his arrival in Winton, Grotjahn mined a spectacular boulder opal, and made enough money from its sale that he was able to purchase a house in town. He would go on to spend the rest of his life in Winton, working as a successful miner while simultaneously raising his family in the same home that he had bought with the money from his first opal jackpot. He grew to adore his adopted home country and became a keen collector of Australian and international memorabilia.
When his collection became larger than he could manage, Grotjahn decided that, rather than donating it to a museum, he would create a monument of his own. Thus, Arno's Wall was born. Over a thirty year period, Grotjahn collected, curated, and built his seventy metre long wall. The concrete and rock structure is embedded with almost every household item imageable, as well as technology including car engines, typewriters, and an entire motorbike. In Grotjahn's own words, "There's everything in there: life, death, the start of the end of the world - the way I see it…" the wall contains "The entire history of Winton."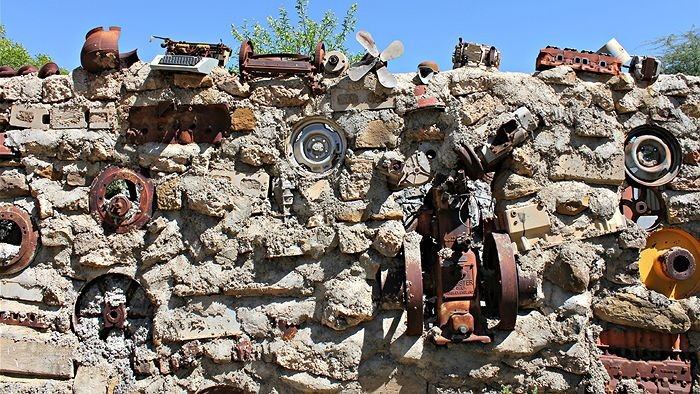 Portion of Arno's Wall
Grotjahn's aim in building the wall was not to erect a shrine to himself, but an eternal salute to the industry that changed his life. As time wages on and the opal mining industry in Australia hits new highs and lows, Arno's Wall remains a steadfast salute to its rich history, particularly the incredible contributions of German-Australians such as himself. Grotjahn's individual legacy lives on in his son, Aaron, a Queensland boulder opal miner and cast member on Discovery's hit show Outback Opal Hunters. Aaron constantly cites his father as his source of inspiration while simultaneously introducing Australian opal mining culture to millions of television viewers across the world, ensuring that the work of those who came before him will not soon be forgotten.

Conclusion
From setting and discovering some of the world's most famous opals to sharing their stories on major pop culture platforms, the impact of German-Australians on the Australian opal mining industry cannot be underestimated. Without Germans and their affinity for gemstones, it is certain that the industry would not be the historical and cultural juggernaut that it is today. 

References
ABC Local, (2014). Great Wall of Arno. [online] Available at: abc.net/local/photos/2014/04/04/3978762.htm. [Accessed 23 Nov. 2020].
Altmann + Cherny. Altmann + Cherny - A True Family Business. [online] Available at: altmanncherny.com.au/about-1. [Accessed 27 Nov. 2020].

Altmann + Cherny. The Altmann + Cherny Story. [online] Available at: https://www.altmanncherny.com.au/about-1. [Accessed 04 Jan. 2021].

Altmann + Cherny. "The Andamooka Opal" Also Known as "The Queen's Opal". [online] Available at: https://www.altmanncherny.com.au/famous. [Accessed 04 Jan. 2021]
Altmann + Cherny. The "Aurora Australis". [online] Available at: https://www.altmanncherny.com.au/famous. [Accessed on Jan. 2021].
Altmann + Cherny. "The Olympic Australis". [online] Available at: https://www.altmanncherny.com.au/famous. [Accessed on Jan. 2021].
Blythe Moore. Arno Grotjahn, originally from Germany, has spent 30 years building a 70-metre wall around his home in outback Queensland. [online] Available at: abc.net.au/local/photos/2014/04/04/3978762.htm. [Accessed 04 Jan. 2021].
Blythe Moore. The wall, known as "Arno's Wall", contains countless items he has collected over the years. [online] Available at: abc.net.au/local/photos/2014/04/04/3978762.htm. [Accessed 04 Jan. 2021].
Immigration Heritage Centre NSW, (2011). The German Australian Community. [online] Available at: migrationheritage.nsw.gov.au/exhibition/enemy@homegerman-australian-community/index.html. [Accessed 27 Nov. 2020].
Jennifer Colless. From Germany and Ireland 1890s to Lightning Ridge 1909. [online] Available at: migrationmemories.net.au/html/lightningridge/coless2.htm. [Accessed 27 Nov. 2020].
Winton Shire Council, (2019). Arno's Wall. [online] Available at: experiencewinton.com.au/news/article/1/arno-s-wall. [Accessed 23 Nov. 2020].