Opal Jewellery Settings
Opal jewellery settings need to be protective and surround the stones on all sides. Extra protection is essential for all opal jewellery because most Australian opal is about the same hardness as glass. You should treat an Australian opal the same way that you would a crystal.
The shape and size of the opal will be the main factor in determining which of the two main jewellery settings will be the best setting option for your opal jewellery. In most cases, opal jewellery will require a four or six prong (claw) or a rub-over bezel setting. Read below to learn more about claw settings and rub-over bezel settings.
Claw Jewellery Settings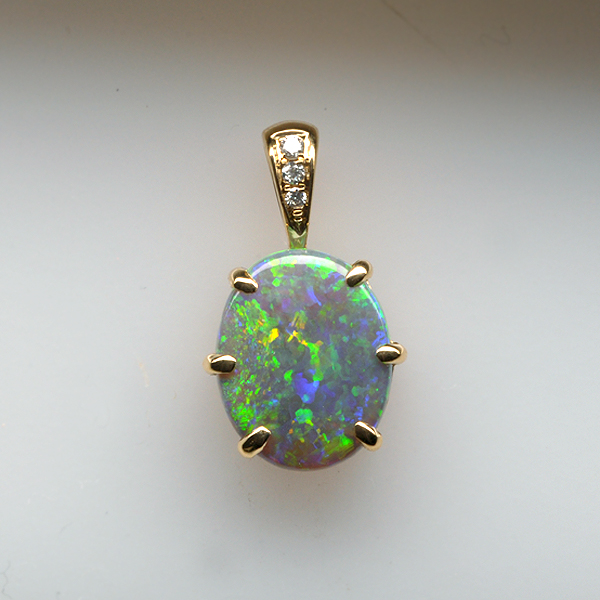 Claw Set Yellow Gold Australian Opal Pendant with Six Prongs
What is a Claw Setting?
A claw setting is when an opal is attached to its setting by a series of tiny metal prongs.
How Many Prongs Will Set the Opal?
How many prongs used in an opal jewellery setting depends on the size and shape of the stone. The most common number of prongs used in jewellery settings is six, because they keep the opal secure and protected without the prongs sticking out too much. Sometimes, three or four prongs will be fine if said prongs are thick enough, but be careful. The less prongs used, the thicker they'll be, which may cause snagging.
Why use a Claw Setting for Opal Jewellery?
With pointy ended gemstones like diamonds, a claw setting might protrude enough to snag on clothing or furniture. Since opals are flat bottomed, they sit lower in a claw setting than usual. Claw settings are ideal for showing off an opal and allowing it to shine from all angles. This type of setting also eases a jeweller's ability to loosen the prongs and remove the opal for any necessary polishing. 
Rub-Over Jewellery Settings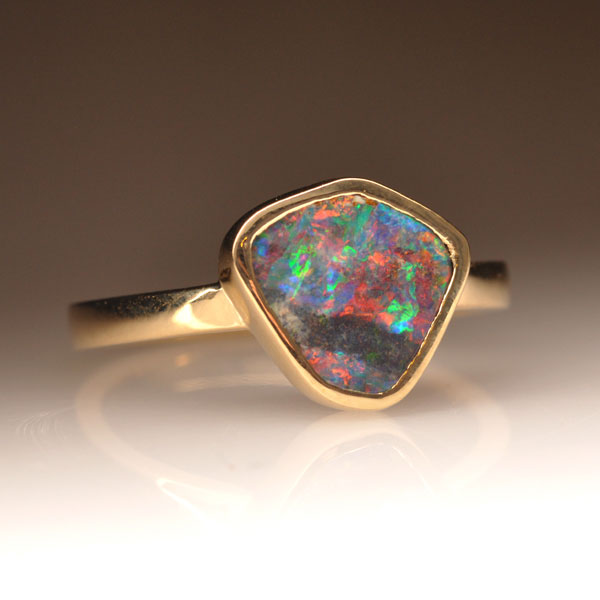 Rub-Over Bezel Set Yellow Gold Australian Opal Ring
What is a Rub-Over Bezel Setting?

A rub-over bezel setting is a halo of white or yellow gold that is wrapped and then rubbed around the edges of an opal, keeping it firmly in place and protected from chipping.
Is a Rub-Over Setting More Expensive?
A rub-over bezel setting is typically in a higher price range than other jewellery settings because more gold is used. But it is worth the cost because if the opal has been bezel set properly, then there is almost no chance that it will ever fall out of it's setting.
How is a Bezel Wrapped Halo Ring Made?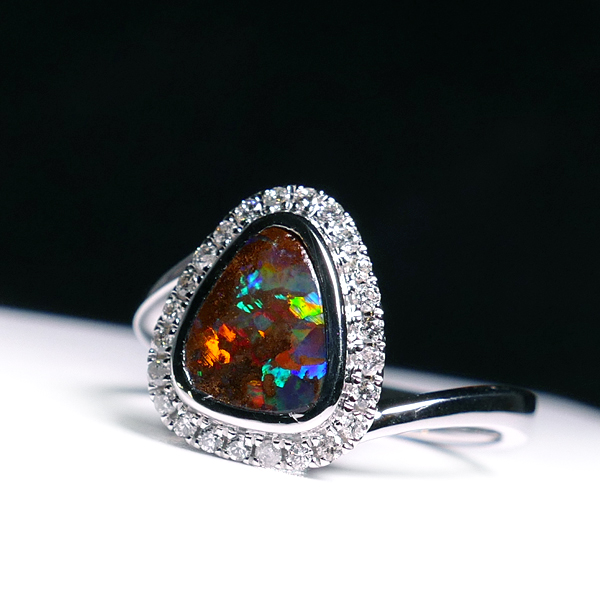 Rub-Over Bezel Set White Gold Australian Opal Ring with Diamond Halo
The opal is wrapped in gold and the halo of gems are individually bezel set around it. Not only does this look incredible but it adds an extra layer of protection around the opal.
Can an Opal Have a Claw Setting and a Gemstone Halo?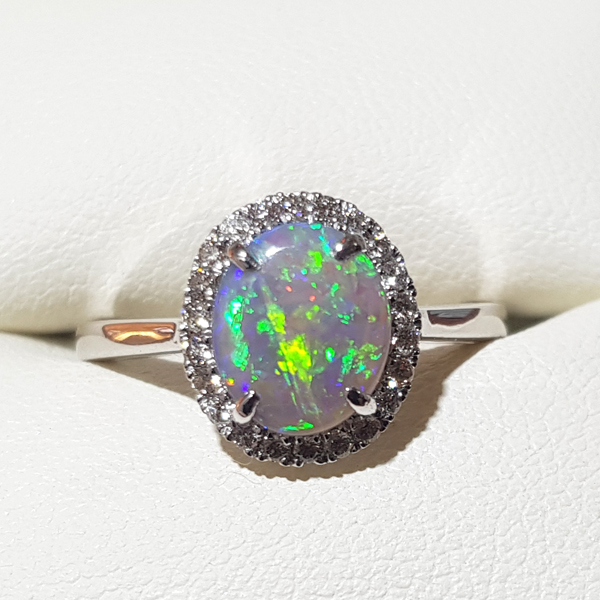 Claw Set White Gold Australian Opal Ring with Diamond Halo
Yes! The opal is set in four or six prongs and the halo of gems are individually bezel set around it.
Click here to shop our entire range of 100% natural solid Australian opal jewellery.